Dyneema Soft Shackle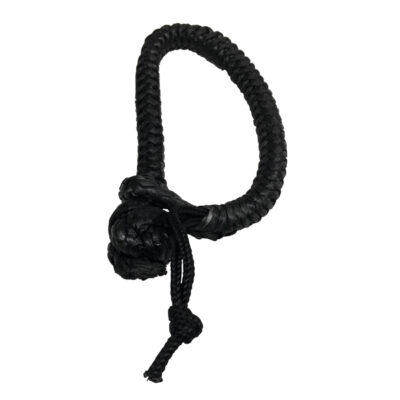 Made from Dyneema SK78, the Soft Shackle is the perfect replacement for traditional metal snap shackles and screw shackles. Very simple to use and needs no tools to instal.
These are lightweight, strong rope shackles that will not cause damage to your deck, hull or rig like a normal metal shackle would. Thanks to their flexibility they can be used everywhere, also in difficult to access locations.
They are also very easy to open by hand and they don't sink if dropped overboard!
Features
Made out of HMPE (Dyneema or Spectra)
Will not rust or corrode
Light and easy to handle
Soft so will not damage soft surfaces around it
Do not need tools to use it
Versatile
Comes in 4 sizes
Sizes & Breaking Loads
3 x 40mm / Breaking Load: 1,270kg
4 x 55mm / Breaking Load: 2,260kg
5 x 75mm / Breaking Load: 3,400kg – Sold as a pair
6 x 90mm / Breaking Load: 5,200kg – Sold as a pair
Please note that the safe working load is about half that of the Breaking Load.
Here are some everyday uses for soft shackles and strops:
You can use them instead of snapshackles to secure halyards to sails.
Quickly and easily attach blocks to toerail slots or deck padeyes.
If you eye-splice the ends of your jib sheets, you can attach them to the clew ring with a soft shackle to eliminate the problem of bowlines hanging up on the shrouds while tacking.
A soft shackle attached to the toerail amidships can be used as a "soft cleat" for spring lines if your boat lacks midship cleats.
A soft shackle is ideal for attaching a snubber line to anchor chain—unlike a chain hook, it will never fall off.
Use Soft shackles in place of metal hanks to attach a sail to a stay—especially useful if you have a Dyneema storm jib stay.
For more information and pricing please Contact Us.