Tylaska SP6 Trigger Style Snapshackle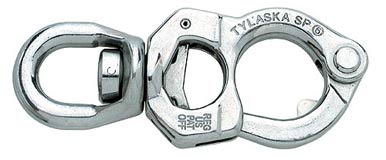 Tylaska has revived the old and proven trigger release snap shackle from races of the past. New molds, closer tolerances and some modifications have breathed new life into the SP6. Now called the SP6, this is the same shackle that has been in every major yachting event since its creation. This light, strong and reliable shackle has been the solution on boats up to 50 ft. Made from the same durable 17-4PH stainless as it was before. The castings are now hipped to create a finished part similar to a forging in strength and metal consistency
Sky International usually carry the SP6 but the larger SP10 and SP15 sizes can easily be brought in.
For full details of these and other Tylaska products please go to the website here: www.tylaska.com

Tylaska Marine Hardware
Tylaska Marine Hardware is an American manufacturer of high quality marine hardware for the sailing and marine industry. the Tylaska product range includes Snap Shackles, Halyard Shackles, J-Locks, and Fids. We have hardware for every sailboat whether it is a small one design, a mid size racing or cruising boat, or a 100 foot ocean cruiser.
Tylaska shackles provide discriminating sailors with the ultimate in strength, performance and durability. They are the standard for cutting edge racing and cruising sailboats throughout the world. Tylaska Shackles can be found on many of the boats in the America's Cup Challenge, the Volvo Around the World Race, Fastnet Racing Series, and the Key West and Block Island Race Week series.