Tylaska Plug-Fids
Tylaska Plug fids allow for remote release of trigger shackles. The fid is pushed into the trigger hole and the tapered rear of the fid allows the trigger to snap closed again and hold the fid in place. A lanyard can then be placed in either of two locations depending upon the desired location of remote release. For side release, the lanyard is attached to the blunt end and can be pulled out either by hand or by winch. For rear release, the lanyard is attached to the tapered end and pulled from behind. The fid pries upon the trigger and stays captive with the shackle. Can also be used with no lanyard and operated as a 'handle' for convenient release. The plug fid is ideal for avoiding the need to crawl out into risky locations or for single-handed or night sailing.
Tylaska are well known in the sailing community for offering high end quality sailing hardware that is dependable and easy to use when you need it the most.
Sky usually stock the H5, H8 and the H12 but other sizes are easily brought in.
The Tylaska Halyard Shackles in Use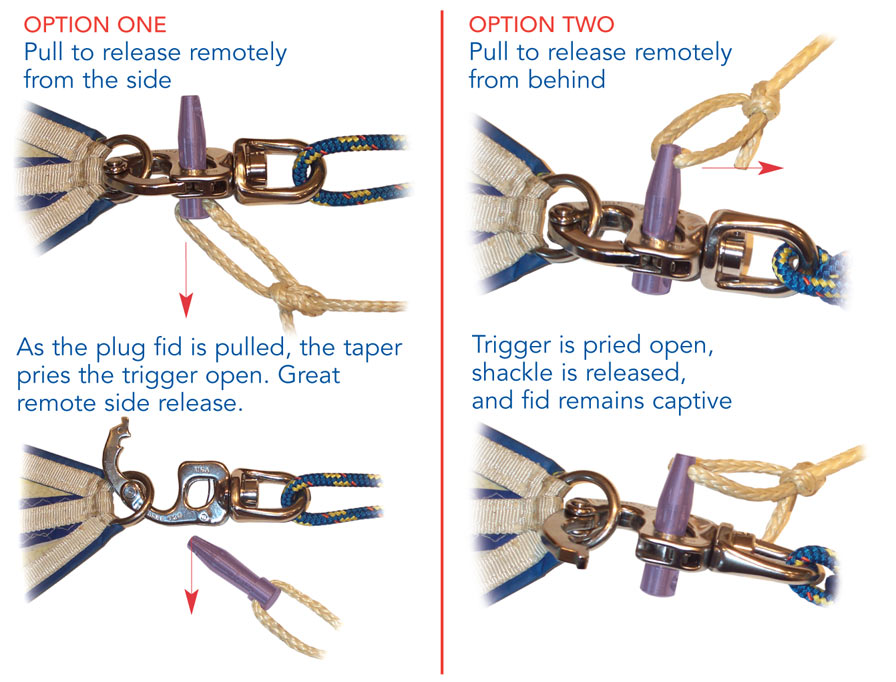 For full details of these and other Tylaska products please go to the website here: www.tylaska.com
Tylaska Marine Hardware
Tylaska Marine Hardware is an American manufacturer of high quality marine hardware for the sailing and marine industry. Tylaska products include Snap Shackles, Halyard Shackles, J-Locks, and Fids. We have hardware for every sailboat whether it is a small one design, a mid size racing or cruising boat, or a 100 foot ocean cruiser.
Tylaska shackles provide discriminating sailors with the ultimate in strength, performance and durability. They are the standard for cutting edge racing and cruising sailboats throughout the world. Tylaska Shackles can be found on many of the boats in the America's Cup Challenge, the Volvo Around the World Race, Fastnet Racing Series, and the Key West and Block Island Race Week series.