Tylaska Press Lock Shackle
As an alternative to Tylaska's J-Lock style shackle, the Tylaska Press lock serves the same purpose with a different design. Two opposing triggers are pressed to open the shackle. Both opposing triggers must be pressed at the same time to open the shackle which safeguards against accidental opening during flogging. Investment cast and then hipped in aerospace 17-4PH stainless, the Press Lock Junior and Senior are held to the same high standards as our snap shackles. Designed to be strong and light, yet provide easy use in those tight mark roundings, they have proven to be up to the task. Their opposing trigger mechanism is ideal for sheets and other applications requiring a fitting small enough to pass through the lead cars to make re-leading a sheet easier. They are also used for halyards, outhauls and lead changers.

The Press Lock Junior is perfect for boats 24 to 40 feet LOA and has been seen widely on the Farr 40s.
The Press Lock Senior also is a tried and true veteran. Commonly found on America's Cup boats and maxi boats, these have stood the test of time. These shackles can cover boats from 40 to 80 feet LOA.
The Tylaska Press Lock Shackle Features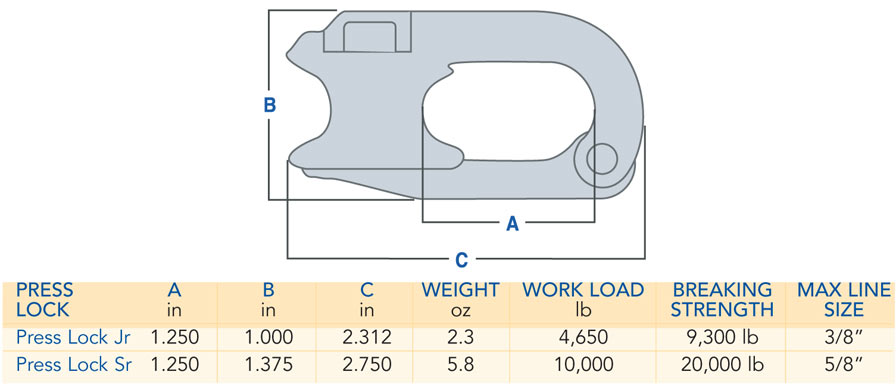 For full details of these and other Tylaska products please go to the website here: www.tylaska.com
Tylaska Marine Hardware
Tylaska Marine Hardware is an American manufacturer of high quality marine hardware for the sailing and marine industry. Tylaska products include Snap Shackles, Halyard Shackles, J-Locks, and Fids. We have hardware for every sailboat whether it is a small one design, a mid size racing or cruising boat, or a 100 foot ocean cruiser.
Tylaska shackles provide discriminating sailors with the ultimate in strength, performance and durability. They are the standard for cutting edge racing and cruising sailboats throughout the world. Tylaska Shackles can be found on many of the boats in the America's Cup Challenge, the Volvo Around the World Race, Fastnet Racing Series, and the Key West and Block Island Race Week series.