Selma 5 Fid Splicing Kit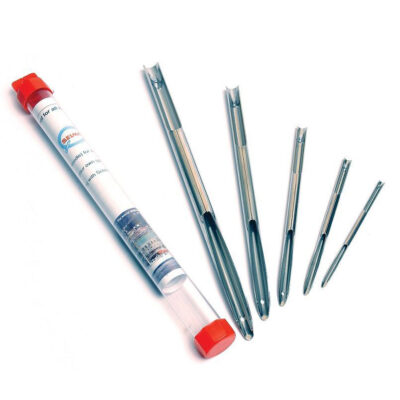 The Selma 5 Fid Splicing Kit is made from highly polished stainless steel. These fids are the best in the buisiness and also support splicing across the following range of lines:
Hollow braided lines – 3.5 mm (1/8 in.) diameter
For heavy ropes there is a large Fid made in nickel plated brass which can be used on hollow braided lines up to 20 mm (3/4 in.)
Double braid line up to 32 mm (1-1/4 in.)
Three stranded ropes up to 36 mm (1-1/2 in.)
Features
5 fids set (inside diameter): 4mm 5.5mm 7.5mm 10mm 13mm
Made in Norway of highly polished stainless steel
Comes with basic splicing guide
The tab in each fid makes pass thrus quick and simple
Fids nest together for easy storage
Need some guidance on splicing techniques, take a look at the English Braids Splicing guide – a great set of step-by-step videos.
As a manufacturer of ropes and cordage, English Braids are also in a perfect possition to also offer splicing tools. English Braids are just one of a few companies that supply us with the Selma fids so we nearly always have them in stock.
For more information on the English Braids range please visit their website here: www.englishbraids.com
For product pricing and also stock availability please call +852 2827 5876 or contact us.