Holt Allen Small Splicing Needle For 2 to 3mm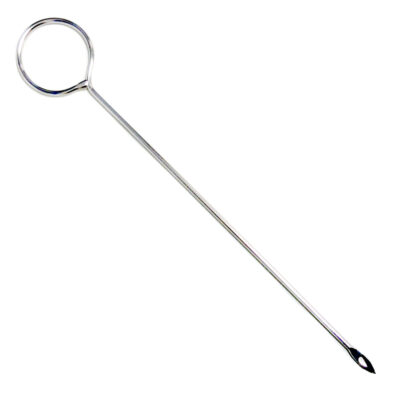 Holt/Allen use highly polished stainless steel to make a fine splicing needle. This needle is one of the best in the buisiness.
This splicing tool is ideal for splicing smaller 2 or 3mm ropes and feeding the rope back through any rope or core.
Specifically designed for use with modern synthetic fibres and rope constructions, in particular small line sizes where conventional fids/needles don't work. Perfect for dyneema and braided ropes. This will suit most dinghy sailors.
Features
Ideal for 2mm and 3mm lines
Made of highly polished stainless steel
Perfect for smaller ropes
Great for pulling small lines through themselves
Need a larger size fid or needle? We also sell the Selma 5 Fid pack. And also the 4 or 5.5mm Allen Fids.
Specifications
| Description | diameter mm | length mm | max rope diameter mm | weight g |
| --- | --- | --- | --- | --- |
| Small Splicing Needle | 2.5 | 175 | 3 | 3 |
Need some guidance on splicing techniques, take a look at the English Braids Splicing guide – a great set of step-by-step videos.
For more information on the English Braids range please visit their website here: www.holt.eu
For product pricing and also stock availability please call +852 2827 5876 or contact us.