PSP UV Resistant Duck Tape (Formally Dinghy Tape)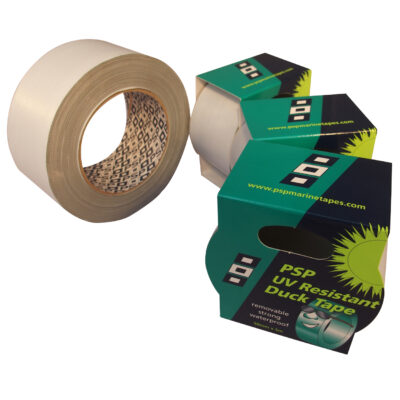 Probably one of the most highly prized tapes in sailing and kayaking, certainly among dinghy sailors. Originally designed for sailors and watersports enthusiasts as an all-purpose tape. PSP UV Resistant Duck Tape has definitely proved to be just that!
The perfect combination of being versatile, highly adhesive, waterproof, air-tight, strong, can be cut to size, applied directly onto damp surfaces, and this variant is even UV and weather resistant. In short, whatever may arise, PSP UV Resistant Duck Tape can almost always deal with the situation.
Features
Colours: Grey
Size: 50mm x 5m
For full details of this and other sailing tapes and patches please go to the PSP website here: www.admiralpsp.co.uk. For product pricing and also stock availability please call +852 2827 5876 or contact us.