PSP Rig Wrap / Millionaire's Tape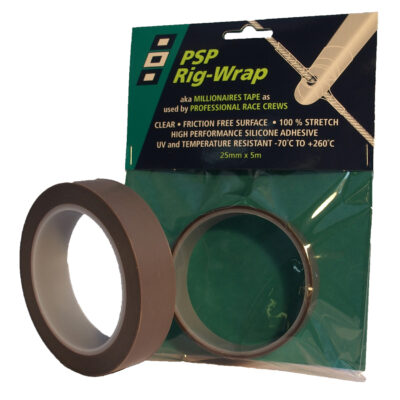 Stretch and coil wrap the clear/opaque Rig Wrap tape around rigging in places where the sails come into contact. Reduce wear on expensive sails and provide a friction free surface to ease the passage of sails on tack and Gybe. UV resistence helps the tape last longer in the harsh marine environment.
Features
Colours: none
Retail Sizes: 25mm x 5m Roll
Trade Sizes: 25mm x 33m Roll and 50mm x 33m Roll
Friction Free
100% Stretch
UV resistent
Resists temperature of -70 to +260 Celsius
For full details of this and other sailing tapes and patches please go to the PSP website here: www.admiralpsp.co.uk. For product pricing and stock availability please call +852 2827 5876 or contact us.