Plastic Padding Chemical Metal – 180ml Tin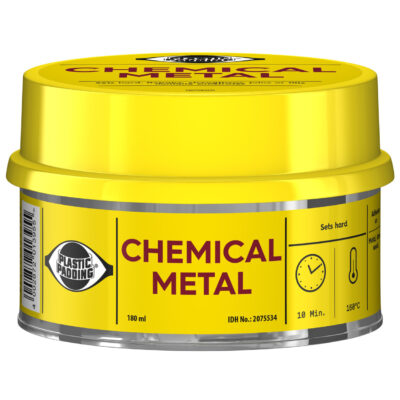 Chemical Metal is a dark grey two-part polyester based general purpose 'universal fix-it' product. It allows fast, easy repairs. Suited to any substrate, it allows fast and easy repairs on boats, kayaks, dinghies, cars, in the house, hobby etc. Suitable for filling and trowelling flaws and cracks, for joining dissimilar materials and for sealing housings and casings. It has a work time of 5 to 10 mins and a cure time of 20 min. The temperature resistance on steel is +120°C. It contains 244g/l solvent.
Features
The original rock-hard multi-purpose repair paste
Resistant to temperatures up to +160°C
Thousands of home, automotive and DIY uses
Working time is 5 to 10 min and cure time is 20 min
Allows machining, including tapping threads, after 20 minutes
Can be used on most substrates
Resistant to water, salt water, oil, fuel, and to most weak acids and chemicals
Tub Size: 180ml
Ideal for Boats, Caravans, Motorhomes and also Homes etc.
For product pricing and also stock availability please call +852 2827 5876 or contact us.
Plastic Padding will change to Teroson soon, both of which are brands of Henkel. More information can be found on their website.