Mini Reels – 3.5mm x 15m Polyester K Cord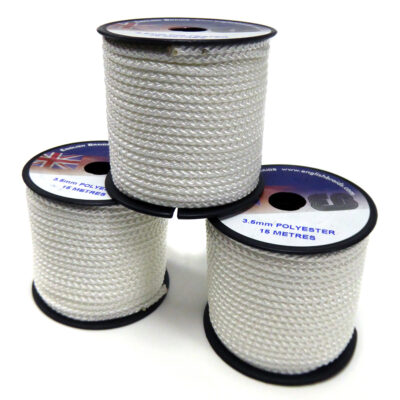 K Cord Polyester cross braided cord in 8 plait construction for flexible, easy handling and good roundness. The K Range construction is particularly suitable for positive grip in cord locking mechanisms. Technical quality polyester fibres give the cord an attractive bright and durable finish.
The 3.5mm Polyester lines are single braid, open weave with a 8-braid cover and a twisted filament core. They are made of high tenacity multi-filament yarns and also have a breaking load of 230kg.
Handy for general use on your boat and a good accessory to keep in your kit bag.
Available in White colour only.
Features
High quality multi-filament core
Longevity delivered through quality materials
Reliability and durability
Resistant to moisture, rot and salt water
2mm x 30m, 2.5mm x 30m, 3mm x 20m and 3.5mm x 15m Mini Reels also available as well as Vectran mini Spools.
For more information on English Braids ropes as well as their full range of products, please go to their website www.englishbraids.com. For product pricing and stock availability please call +852 2827 5876 or contact us.