Mini Reels – PES 2mm x 20m Polyester Minireels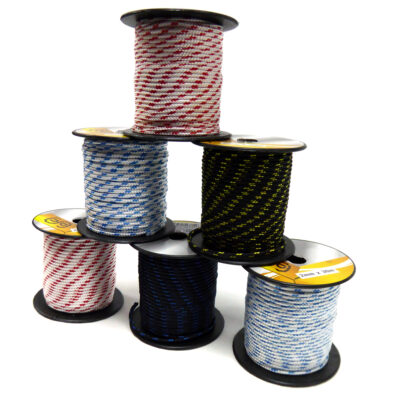 The PES 2mm Polyester lines are single braid, open weave with a 16-braid cover and a twisted filament core. They are made of high tenacity multi-filament yarns and also have a breaking load of 100kg.
Handy for general use on your boat and a good accessory to keep in your kit bag.
Available in White/Red, White/Blue, Black/Blue as well as Black/Yellow colours.
Features
High quality multi-filament core
Longevity delivered through quality materials
Good colour range for ease of identification
Reliability and durability
Resistant to moisture, rot and salt water
3mm x 30m and 2.5mm Mini Reels also available.
Please note that TexTech Asia are merging with another rope manufacturer so branding may be different to the images used on this website. TexTech Asia manufactures ropes in Thailand using the highest European technology, machinery and also expertise.
For product pricing and stock availability please call +852 2827 5876 or contact us.