Little Hawk Race Wind Indicator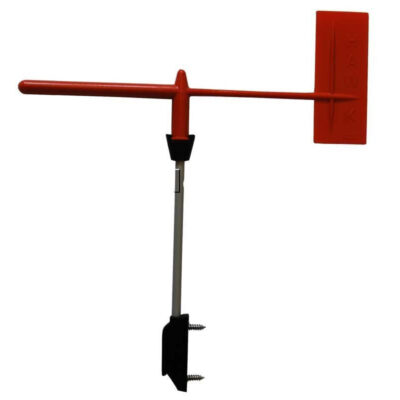 The Little Hawk Race takes the ever popular Mk1 Wind Indicator, cuts it to minimal length and provides it with a robust and lightweight mounting system. This gives the customer the lightest, least drag Wind Indicator on the market today. With its UV protection there will me no degradation in performance for many years. Ideal for all racing boats up to 8m.
The Mast Clamp is screwed to the mast with 2 self tapping screws (Supplied), the Little Hawk Race is then pushed into place or removed easily in seconds without any tools.
Little Hawk Race Wind Indicator Features:
Vane Arm Length: 16.5cm
Overall Height: 14cm
Overall Weight: 14gms
Bearing: Aluminium Pin
UV Protected: Yes
Balanced Arm: By design
Use:
Dinghy's up to 8m.
Assembly Instructions
Fit the Vane Arm onto the Support Rod
Ensure the base of the Vane Arm clips into the Support Rod moulding
Check that the Vane Arm turns freely
Align the Mast clip to the top of your mast
It is ideally situated about 6cm from the top and clear of all the pullies
You will need to drill 2 x 2.5mm holes and screw the mast clip in with the Screws provided
The support rod will just clip in or out as required
Please refer to the manufacturer's website for more information: www.hawkmarineproducts.com