Little Hawk Mk2 Podium Edition Wind Indicator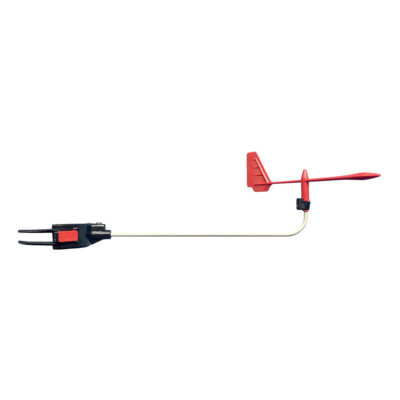 The Little Hawk Mk2 Podium Edition has all the benefits of the standard MK2, but uses the new Podium Edition Vane Arm. This has been computer designed to increase strength and stiffness as well as reducing weight and its moment of inertia. This makes it overall lighter, more sensitive in light airs and more robust. The Podium Edition also uses a new locking block system so that you will never lose a Vane Arm again.
The Podium Edition is easily mounted and removed with a secure adjustable bracket. The aluminium support rod can be bent to any required angle, but is easily straightened if accidentally knocked. The complete unit removes for safe storage without any tools. The Little Hawk Mk2 Podium Edition is very popular with Topper and ILCA/Laser Sailors.
Little Hawk Mk2 Podium Edition Wind Indicator Features:
Vane Arm Length: 15cm
Overall Height: 10cm
Overall Weight: 25gms
Bearing: Aluminium Pin
UV Protected: Yes
Balanced Arm: By design
Use:
Dinghy's up to 8m such as ILCA Dinghies, Lasers, Toppers and similar sized dinghies.
Assembly Instructions
The Vane Arm is already assembled
Check that the Vane Arm turns freely
Loosen the screw on the top of the Mast Clamp
Push the Support rod all the way into the Mast Clamp socket
Ensure the Vane Arm is centralised and square to the mast clamp
Tighten the screw on top of the mast clamp to lock the Support Rod in position
Ensure the Support Rod can not fall out before use
Place the Little Hawk Mk2 on the front of the mast either just below or just above the Goose Neck
Tighten the elastic as required
Please refer to the manufacturer's website for more information: www.hawkmarineproducts.com. For product pricing and also stock availability please call +852 2827 5876 or contact us.