TexTech Lead Anchor Line Rope
Polyester and Polypropylene double braid leaded anchor lines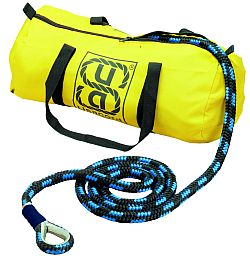 The leaded anchor line from TexTech Asia has in its construction a 10m lead core-inlay with a smart combination of Polyester and Polypropylene yarns. These cool features allow you to have a rope which is nice to handle, but has the weight needed to hold the anchor down and flat whilst absorbing as little water as possible.
For an anchor to hold best it needs to lie down. To achieve this the ground tackle or anchor line needs to sink to the sea floor. This is usually done with heavy galvanised steel chain connected between the anchor and the rope line.
Whilst chain is considered best for holding an anchor, it has two distinct problems. First chain is nasty, it rusts and can scratch and bang up your deck and bow.
Features
10m of lead lining
low water absorption
excellent grip
high tensile strength
extremely flexible
excellent UV resistance
resistant to acids, oil, fuel, moisture, rot
supplied in handy carry bag
Applications
For all kinds and sizes of boats and yachts; choose the right size that suits you!
Recommended Shock-Line diameter
Line Diameter / Length / Breaking Load:
10m / 30m / 1,500kg
12m / 40m / 2,500kg
14m / 40m / 3,000kg
16m / 40m / 4,000kg
For product pricing and stock availability please call +852 2827 5876 or contact us.