TexTech ShockLine TowLine – Shock Absorbing Towing and Mooring Rope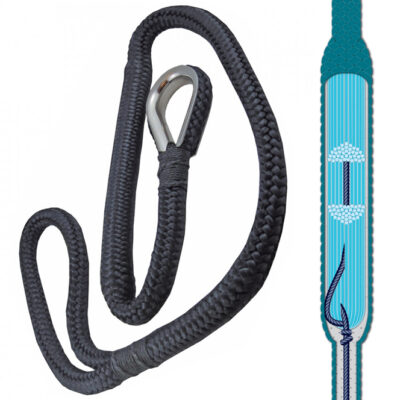 A polyester TowLine with integrated rubber shock absorber and stainless steel thimbles. Integrated industrial rubber filaments in the ShockLine permit high elasticity in absorbing shocks from waves, surge and storms.
With increasing tension the rubber shock damper expands and brings the movement of the boat back to a gradual halt. The boat smoothly returns to its normal position. The 100% Polyester cover resists abrasion.
Specifications
Double 16/8 – braid polyester rope, made of high tenacity multi-filament yarns with rubber filament core-inlay to act as shock absorber, professionally hand-spliced 30cm eye on one side, other end finished with a stainless steel thimble. Colours spun-dyed.
Features
Highest possible shock-free comfort
Stainless steel thimble on one end, soft loop on the other
Maximal protection and security for material on/in boat and for dock-installations
High tensile strength
Extremely flexible
Excellent UV resistance
Resistant to acids, oil, fuel, moisture, rot
Applications
For all kinds and sizes of boats and yachts up to big boats and also Super yachts; choose the right size! Custom made non standard Shock Lines in special executions (sizes/lengths/colours) are also available on demand.
Recommended TowLine diameter

Boat Length
Line Diameter
Stretch
Breaking Load
11 – 15m
15mm
250mm
3,200kg
16 – 20m
18mm
300mm
4,000kg
For product pricing and also stock availability please call +852 2827 5876 or contact us.