Betelon Polypropylene Rope – 16-Braid
Single braid open weave rope with 16-braid cover and twisted filament core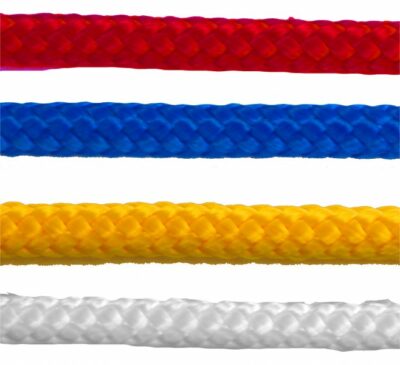 Betelon from TexTech Asia is a high tenacity lightweight rope that has zero water absorption. The multufilament yarns and built in UV filter make this an ideal rope for for everyday use such as mooring, anchoring and towing. Betelon is also a floating line making it even better for towing. Can also be useful for smaller boats that have lighter loads on ropes.
For all kinds and sizes of dinghies and boats. Betelon is available in a wide array of single, bright colours and diameters and is sold by the meter or full rolls.
Features
Single strand inner core with 16 strand outer cover
High tensile strength
Floats on water
Zero water absorption
Kink free
Extremely flexible
Excellent UV resistance
Resistant to acids, oil, fuel, moisture, rot
Breaking Loads
Line Diameter / Breaking Load:
2mm / 95kg
4mm / 350kg
6mm / 620kg
8mm / 900kg
10mm / 1,300kg
12mm / 1,800kg
14mm / 2,400kg
For product pricing and stock availability please call +852 2827 5876 or contact us.