Mini Reels – 1.6mm & 3mm Super Strong Vectran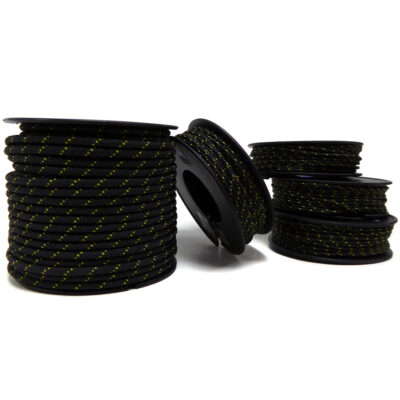 Vectran, the unique fibre spun from liquid crystal polymer, has some quite impressive properties. Stability is its greatest asset with no movement in the rope at working loads. Although the durability of Dyneema has taken some attraction away from Vectran ropes, the sheer immovability Vectran gives a rope in the form of low stretch and more importantly, low creep makes this rope a winning option for racing dinghies. They are made of high tenacity multi-filament yarns and also have a breaking load of 230kg.
Our English Braids mini reels come in two sizes, 1.6mm x 15m and 3mm x 16m.
Handy for general use on your boat and a good accessory to keep in your kit bag. 1.6mm spools are Great for Optimist sail ties.
Available in Black with Gold fleck colour only.
Features
Extremely good stability
Low stretch
Low creep
Hard wearing
Precise reel lengths
Longevity delivered through quality materials
Reliability and durability
Resistant to moisture, rot and salt water
For more information on English Braids ropes as well as their full range of products, please go to their website www.englishbraids.com. For product pricing and stock availability please call +852 2827 5876 or contact us.