Icom IC-M37 VHF Marine Radio
6 Watt VHF with Float'n Flash and 12 Hours of Operation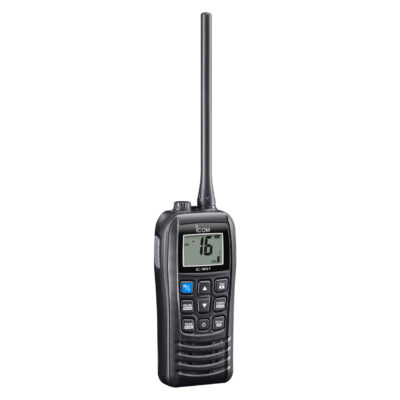 The Icom IC-M37 is a solid and reliable handheld vhf radio that is designed for recreational sailing and commercial vessels. The M37 radio includes all of the features of the M36 while also offering Icom's exclusive Float N' Flash feature as well as a longer lasting battery that can work up to 12 hours versus M36's 8 hours of use.
Some features of the Icom IC-M37 include a low battery function alert, AquaQuake draining feature, instant access to channel 16 and the call channel, and more. Voice loud or voice mute options enables each user too temporarily maximize or mute the volume directly on the Icom M37. A sleek new keypad ensures every click on the device is a successful one. A large LCD display will display your selections and channels even in bright, direct sunlight. Continuing with popular features demanded by boaters everywhere, the active noise cancelling, AquaQuake, and the float'n flash functionalities are passed along to this new and improved unit.
It Floats
The iCOM IC-M37 floats back up to the surface if dropped overboard, even if the optional speaker microphone is attached.
LOUD Button
When you need an instant "boost" in the volume, a simple push of the "LOUD" button gives you full volume immediately. In addition, holding the "LOUD" button mutes the audio output.
Noise cancelling microphone
The sub-microphone on the rear panel inverts phase and cancels out ambient noise from the main microphone. As a result, the IC-M37 reduces the affect of background noise (particularly trebly noise) from the transmitted signal and makes it easier to catch voice communication.
Automatic volume adjustment
When in an engine room or high noise environment, the sub-microphone detects the ambient noise and the M37 automatically increases the volume output to suit the surrounding environment.
Low power consumption
Although the IC-M37 delivers a high 6W RF output and 700mW audio output, its current saving circuit offers a practical 12 hours* of operating time with the supplied 980mAh Lithium-Ion battery pack.
Features
Large Keys and Easy-to-Grip Design
6 W RF Output Power
700 mW Audio Output
More than 12 Hours* of Long-Lasting Operating Time (with BP-296)
Channel History Function Stores the Last Five Channels Used for Easy Recall
Float'n Flash Function
IP57 dust-protection and waterproof protection (1 m depth of water for 30 minutes)
Low Battery Alert function
Voice Loud and Mute function enables to temporary maximize/mute the volume
AquaQuake™ function prevents audio degradation from a water-logged speaker
Dualwatch and Tri-Watch functions
Favorite Channel function
Instant access to channel 16 and the Call channel
BP-296 user replaceable Li-ion battery pack supplied
Weather channels with Weather Alert function
New Hong Kong 96 & 99 channels pre programmed in
Each Icom M37 Floating Handheld VHF Radio Comes with
M37 Handheld VHF
Antenna
Handstrap
Belt Clip
Battery Pack with Desktop Charger and Power Cord
Three Year Warranty
For more information about iCOM please go to the manufacturers website here: www.icomjapan.com. For product pricing and stock availability please call +852 2827 5876 or contact us.