Exposure MOB Waterproof, Floating Search Light, Torch and Strobe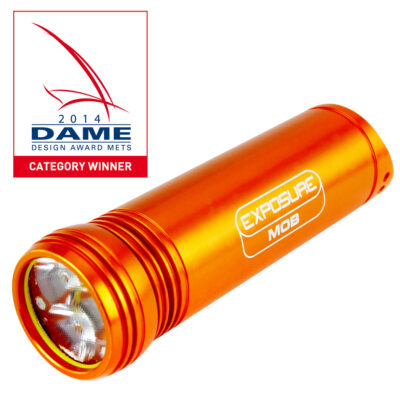 The powerful Exposure MOB (Man OverBoard) strobe and spot light has been designed to ensure any person going overboard can be found fast. It does not need to be switched on to activate as an emergency location strobe. Its intelligent, motion activated technology (MOBT) starts working as soon as the light is picked up, and it can be simply thrown towards a person in the water.
Once the light hits the water it creates a contact that switches on the flashing strobe:
Its highly visible, 1300 lumens strobe remains flashing until the water contact is broken
It is totally waterproof and will float near the casualty, or it can also be grabbed
Furthermore, a wrist lanyard allows it to be kept secure without having to use the hands
Water Activated Strobe
1,300 lumens floating strobe – highly visible from the air and over 5 nautical miles
Strobe flashes up to 40 hours on a full charge and down to 1 hour when indicating charge required – MOB light will likely outlive a man overboard victim in colder waters
Unique, high visibility orange anodising is used to give optimum visibility in an emergency and as a result,  falling in line with recognised marine safety products
Reflective storage holster supplied so that it can be stored in easily accessible positions
Constructed for the Marine Environment
Buoyant
Fully waterproof – IPX8 to 5 metres
Gold plated terminals to help prevent corrosion
Anodised to protect from the marine environment
Floating high strength / high visibility reflective Dyneema® lanyard – aid with flotation
Terminals are not continuously active and searching for connection, to avoid corrosion and battery drainage
Simple Operation
Simple information plate etched on the light to ensure any user can understand how to use the basic strobe element of the light and what the Quick Find Button does
2 programs depending on requirements – simple change (point down and click 6 times)
Program 1. Full functionality (high, medium, low)
Program 2. 1 click – eliminates prior knowledge requirement
Packaging, user instructions and marketing to support
and highlight ease of use
Design
Orange anodised marine grade aluminium for safety and visibility
Small, light weight, compact and also palm sized – signals easy use and easy stowage, comfortable to stow in a garment pocket
Elegant, smooth curves – reflect shape of waves & naturally protect terminals
Gold plated terminals on black background reinforce perceptions of quality
The Exposure MOB Light is unique due to the combination of technology, design and functionality, including: MOB strobe, motion and water activation – no switch needed, high power torch & spot light, multiple modes, battery feedback, flexible USB, 12 volt recharge capability.
In the Box
Exposure MOB Rechargeable Light
2 holsters, charger, light and also a lanyard
For more information please go to the manufacturers website here: www.exposurelights.com. For product pricing and also stock availability please call +852 2827 5876 or contact us.