Croakies Suiters Eyewear Retainers
Comfortable and Durable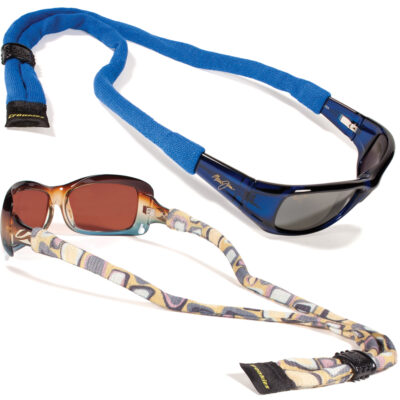 These popular sport retainers are both comfortable and durable, and available in three sizes. Micro Suiters are stretchy and slim and fit regular to small frames. The classic Croakies Suiters are soft and adjustable and fit small to large frames. XL Suiters are an extra large version of the classic Suiters and fit extra large frames. Constructed from high quality materials and Made in the U.S.A.
Features
14″ long (each side) x 1/2″ wide
Knitted cotton yarn
Adjustable slider bead
Washable
Custom imprinting available
Made in the USA
Solid Cotton Suiters
A soft, lightweight and highly adjustable eyewear retainer. Made from woven Cotton and available in Solid and Trend colors. Ends slide onto frame ends and tightly grip all medium sized frames. Now available in Regular and XL sizes. XL sizes fit bulky frames.
Print Suiters
Shake it up with one of our fun and colorful Print Suiters! We offer a variety of patterns to keep you looking stylish while protecting your shades. Like our Micro Suiters, our Print Suiters come with an adjustable bead. Now available in Regular and XL sizes. XL sizes fit bulky frames.
Why not combine these with a pair of our stunning Kaenon Sunglasses, ideal for sailing and outdoor activities!
Suiters Adjustability
Grip & slide bead up to tighten. Grip & slide bead down to loosen
XL Suiters
Fits big frames
Suiters
Fits most frames
Micro Suiters
Fits small frames
Fitting Guide
Compare the tallest part of your frame's end or temple to a mm ruler or use your ruler app to determine its size. Then find the eyewear retainer that best fits your frame size and wearing preference.
Sport Retainers

Frame Size
2-3mm
3-4mm
5-6mm
7-9mm
10-20mm
Croakies
Fits
Fits
Fits
Croakies XL
Fits
Fits
Fits
Fits
Suiters
Fits
Fits
Fits
XL Suiters
Fits
Fits
Fits
Fits
Micro Suiters
Fits
Fits
XL/XXL Terra
Fits
Fits
Fits
Reg/XL Terra
Fits
Fits
Fits
Tite End/XL Tite End
Fits
Fits
Reg Terra/Tite End
Fits
Fits
Fits
XXL Terra /XL Tite End
Fits
Fits
XL Terra/XL Tite End
Fits
Fits
Terra Spec Cords
Fits
Fits
Fits
Fits
ARC Reg/XL
Fits
Fits
ARC XL/XXL
Fits
Fits
Fits
Please refer to the company website for more information about these and other products: https://croakies.com