Croakies Ultrasuede Cords Eyewear Retainers
Extreme Comfort And Durability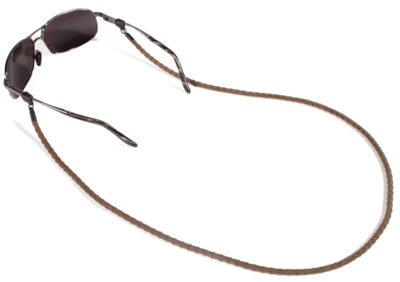 The plush microfiber suede-like material of the Croakies Ultrasuede Cord offers extreme comfort and durability to bring you one of our most lightweight eyewear retainers. No need to worry about discolouration from perspiration. The  Ultrasuede Cord incorporates advanced dyeing techniques that protect the fabric. The cord is also resistant to cracking, pilling, stretching and shrinking. You will love the sophistication of this relaxed cord and have the satisfaction of knowing your glasses are safe and protected.
Features
30″ long
Croakies Ultrasuede cord
Colour-fast & washable
Spec or Tite Ends
Why not combine these with a pair of our stunning Kaenon Sunglasses, ideal for sailing and outdoor activities!
Fitting Guide
Compare the tallest part of your frame's end or temple to a mm ruler or use your ruler app to determine its size. Then find the eyewear retainer that best fits your frame size and wearing preference.
Fasion Retainers

Frame Size
2-3mm
3-4mm
5-6mm
7-9mm
10-20mm
World Cords Tite End
Fits
Fits
Fits
World Cords Spec End
 Fits
Fits
Fits
Fits
Ultrasuade Tite End
Fits
Fits
Fits
Ultrasuade Spec End
Fits
Fits
Fits
Fits
Leather Tite End
Fits
Fits
Fits
Leather Spec End
Fits
Fits
Fits
Fits
Spec Cords
Fits
Fits
Fits
Fits
Please refer to the company website for more information about these and other products: https://croakies.com