Croakies and Croakies XL Eyewear Retainers
The Classic Neoprene Retainer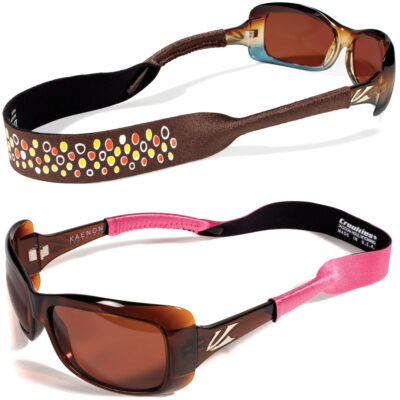 Croakies are the best selling sport retainers and are sold in more than 30 countries throughout the world. Only the highest quality materials are used and incorporate unique details like the patented backstitch. The classic retainer is available in a wide range of colors and prints as well as in two sizes – original Croakies and XL (x-large).
Croakies are practical and functional, and add a layer of security to your valuable eyewear. We offer 6 solid and 5 trend Colors for our classic Neoprene Retainers.
Features
3/4″ tall x 16″ length
High quality neoprene
HyPUR-cel®
Adjustable
Colorfast & washable
Custom imprinting available
Made in the USA (except Bonny Blue and Pink)
Why not combine these with a pair of our stunning Kaenon Sunglasses, ideal for sailing and outdoor activities!
Adjustability
Slide over full length of temple – leave earbow fabric-free for comfort- adjust ends along arm for security level
Secured Backstitch
Prevents thread from unravelling.
Tag of Authenticity
Look for the tag to make sure you get the real thing.
Fitting Guide
Compare the tallest part of your frame's end or temple to a mm ruler or use your ruler app to determine its size. Then find the eyewear retainer that best fits your frame size and wearing preference.
Sport Retainers

Frame Size
2-3mm
3-4mm
5-6mm
7-9mm
10-20mm
Croakies
Fits
Fits
Fits
Croakies XL
Fits
Fits
Fits
Fits
Suiters
Fits
Fits
Fits
XL Suiters
Fits
Fits
Fits
Fits
Micro Suiters
Fits
Fits
XL/XXL Terra
Fits
Fits
Fits
Reg/XL Terra
Fits
Fits
Fits
Tite End/XL Tite End
Fits
Fits
Reg Terra/Tite End
Fits
Fits
Fits
XXL Terra /XL Tite End
Fits
Fits
XL Terra/XL Tite End
Fits
Fits
Terra Spec Cords
Fits
Fits
Fits
Fits
ARC Reg/XL
Fits
Fits
ARC XL/XXL
Fits
Fits
Fits
Please refer to the company website for more information about these and other products: https://croakies.com