Croakies Sport Eyewear Retainers – Never lose your sunnies again!
Croakies Sport eyewear and sunglass retainers are made in the USA with the highest quality materials and craftsmanship. The guys at Croakies pride themselves on constant improvement and technical innovation of their sunglass retainers whilst trying to keep things as simple as possible. That is why they are the leaders in eyewear retention year after year.
The Croakies Sport collection consists of a number of styles; the original and flagship range of Croakies original and Croakies XL along with the Terra, ARC and Suiters.
Croakies & Croakies XL
The Classic Neoprene Retainer
Croakies continue to be the best selling sport retainers sold in more than 30 countries throughout the world. Their classic retainer is available in several styles including original Croakies, XL Croakies, Screen Print Croakies and Sublimated Print Croakies.
Suiters
Comfortable and Durable
These Sport Retainers are both comfortable and durable, and are available in three sizes. Suiters and XL Suiters are soft, adjustable and fit small to large sized or extra large frames. Micro Suiters are stretchy and minimal which is great for small frames
ARC System
Lightweight with a Modern Look
The ARC is our most technically advanced sport retainer featuring an articulating cord that stays off the neck and two interchangeable ends which lets you use the cord with different sized frames.
Terra System
Made from Durable Climbing Rope
Croakies have taken their classic Terra Cords and added the interchangeable end technology of the ARC family. The Terra System features durable climbing rope with length and adjustment options, Float Kit, color options and six end size options.
Croakies Floaters
Insure the Safety of your Frames
Try a Float Kit or one of the Floating Eyewear Retainer styles. Keep your frames safe while on the water with Croakies Float Products. You can add a Float Kit to any of Croakies Terra System or ARC Cords or you can buy one an all-in-one Floating Retainer.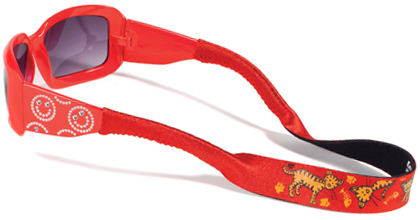 Kids Croakies
Insure the Safety of your Kids Frames
Croakies want to help provide kids with the protection and security they need to keep track of their glasses while concentrating on the task at hand. Therefore, Croakies have created a line of Kid's retainers to help your little ones hold on to their valuable optical frames while experiencing the world around them.
Please refer to the Croakies website for more information about these and other products: https://croakies.com