Kids Croakies Eyewear Retainers
Insure the Safety of your kids Frames
Let's be honest. A child's greatest strength is not typically found in preserving their valuables, including their expensive optical frames. However, kids do excel at playing hard both indoors and outdoors. Croakies want to help provide kids with the protection and security they need to keep track of their glasses while concentrating on the task at hand. Therefore, they've created a line of Kids Croakies retainers to help your little ones hold on to their valuable optical frames while experiencing the world around them.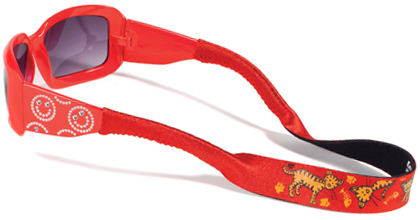 Kids Croakies
The original neoprene eyewear retainer in a smaller size for kids. Available in solid colours and pattern/fun prints.
13" long x 3/4" wide
High quality neoprene
HyPUR-cel®
Adjustable
Colorfast & washable
Custom imprinting available
Made in the USA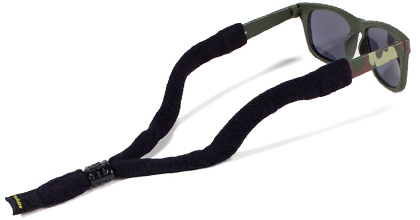 Kids Cotton Suiters
Comfortable and adjustable sport retainers sized for kids. Available in a fun range of solid colours. Also available as a Micro Suiter.
9" long (each side) & 1/2" wide
Knitted cotton yarn
Adjustable slider bead
Washable
Custom impriting available
Made in the USA
Kids Terra System
A kids sized retainer with 3 end options and an adjustable slider bead. Many options available.
Available with either Terra or Tite Ends
Tite End are 10" long (each side)
Terra are 9" long (each side)
Re-attachable ends
Durable woven climbing rope
Colorfast & washable
Adjustable black bead
This sport retainer comes with three of the six different System end options. Terra XL and REG fit on the tips of your frames. TITE End fits anywhere along the bows of your frames. The adjustable slider bead cinches tight to your head for a secure fit during your most active moments. You can pull it all of the way back for a more relaxed fit.
Croakies Float Kit
Add floating buoys to any ARC or Terra Retainer – works with kids styles too.
4 individual floating buoys
1 1/2″ x 7/8″ (diam.)
Customize to your needs
Attachment tool included
Croakies Float Kit includes 4 floating buoy attachments. Use the Float Kit to protect your eyewear from a watery grave. Simply snap apart a re-attachable end and thread on one buoy at a time to your ARC or Terra System cords, and test the float-ability of your eyewear in a sink or bathtub.
Note: Float Kit Accessory works on ARC & Terra System Re-attachable End Retainers only. Must snap off end and thread onto cord.
Why not combine these with a pair of our stunning Kaenon Sunglasses, ideal for sailing and outdoor activities!
Croakies Float Range Fitting Guide
Compare the tallest part of your frame's end or temple to a mm ruler or use your ruler app to determine its size. Then find the eyewear retainer that best fits your frame size and wearing preference.
Kids Retainers

Frame Size
2-3mm
3-4mm
5-6mm
7-9mm
10-20mm
Kids ARC
Fits
Fits
 Fits
Kids Croakies
 Fits
Fits
Fits
Kids Suiters
Fits
Fits
Fits
Kids Micro Suiters
 Fits
Fits
Kids Tite Ends
Fits
Fits
 Fits
Kids Terra Cord Max
Fits
 Fits
 Fits
Kids Terra Cord Middi
Fits
 Fits
Please refer to the company website for more information about these and other products: https://croakies.com