Kaenon Kore sunglasses – SALE 25% Off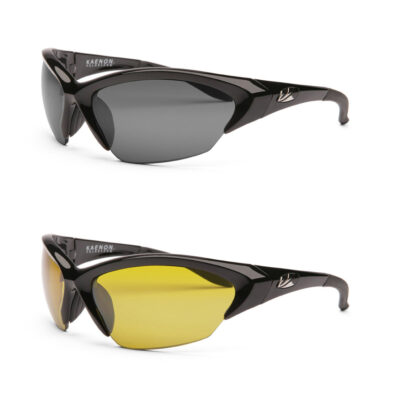 Kaenon's unique "function first" style, Kore is the ultimate sport performance sunglasses for serious sailors and also athletes. This fresh design is lightweight, incredibly durable and intuitively integrated with the natural form of your head. The universal fit offers optimum comfort and visual performance. Variflex nose pads and ear grips offer additional comfort as well as anchor the frame in place for maximum fit.
Kaenon's proprietary SR-91 lens offers a broad spectrum of UV protection, impact-protection and likewise unmatched clarity. A lifetime warranty is also offered on the SR-91 lens.
The Kaenon Kore sunglasses are available in a full range of lens tints and LTLs for any light condition as well as polarized and prescription lenses. Includes a micro fiber cleaning/storage bag and protective hard case. To view the full Kaenon Kore range please go here: www.kaenon.com/kore
Kaenon's SR-91 Lens
Kaenon introduced SR-91 as the answer to all of the shortcomings of existing lens materials. Glass is heavy and shatters, CR-39 is brittle and not impact-resistant, while polycarbonate offers a dull view and scratches easily. SR-91 was tested in independent labs and validated by the world's top athletes and adventurers as the only lens offering razor-sharp clarity and impact-resistance all in one ultra-lightweight, durable lens. Kaenon's high-performance SR-91 lens comes standard in sunglass we make and is available in polarized SR-91 lens options for complete glare elimination. All polarized SR-91 lenses are available in prescription.
Kaenon Kore sunglasses Features
Frame Material: Lightweight, flexible Swiss-made TR-90 frame material
Frame Finish: matte or gloss
Lens Base Curve: 8 base curve
Hinge: Internal stainless steel pivot joint
Lens Material: Kaenon SR-91 Polarized Lens
Lens Tints: Grey, Copper, Yellow
Polarized: Yes
Face Size: Small, medium and full
Gender: Unisex
Nose Pads: Hypoallergenic recessed Variflex nose pads
Temple Pads: Variflex ear grips
Case Type: Hard case and soft micro-fiber cleaning bag
Recommended Use: sport
Manufacturer Warranty: 1 year, Lifetime SR-91 Lens Warranty
Designed in California, Made in Italy
Check out the full range of sunglasses and frames from Kaenon here: www.kaenon.com. For product pricing and also stock availability please call +852 2827 5876 or contact us.