Autonautic B120D Gold Plated Barometer – SALE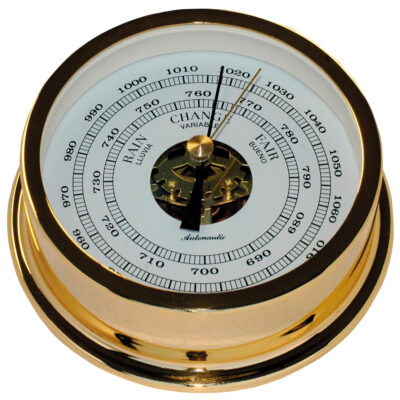 This Autonautic Gold Plated Barometer is a 120 mm diameter barometer from Autonautic Instrumental's Pacific range. Clear and detailed black scales on a white background with black and gold dials.
Features a rubber mounting cup so that there are no visible mounting holes. Once the mounting up is fitted to the bulkhead or wall you push the instrument onto the cup and twist by 10 degrees to get a secure fitting.
A significant benefit of these instruments is that the gold plated finish is lacquered to ensure a much more durable and long lasting appearance is achieved.
Autonautic Gold Plated Barometer – 120mm Features
Dial: 95 mm
Base: 120 mm
Case finish: Gold plated
Dimensions: 120×35 mm
This barometer would look ideal when placed with the AUR120D Wall Clock.
This product is on SALE with 10% off retail price
Check out the full range of Autonautic barometers and time pieces here: www.autonauticinstrumental.com