Autonautic EMP Weather Station
This product is on SALE with 10% off retail price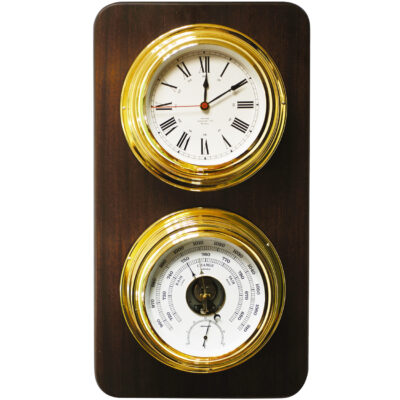 This elegant and luxurious Autonautic EMP Weather Station is composed of a barometer, thermometer and clock mounted onto a quality wooden plinth. The EMP is part of Autonautic's Mediterranean range of instruments.
The Autonautic DEG Weather Station is perfect for any boater or outdoorsman who wants to monitor the weather at a glance. This set gives the user two essential elements in the weather equation: air pressure and air temperature as well as the time of day.
You can mount on a wall in the home, office or also the bulkhead of a boat.
The lacquered gold-plated finish ensures a much more durable and long-lasting appearance.
Autonautic EMP Weather Station Features
Includes barometer, clock and thermometer
Base: 220 mm
Dial: 150 mm
Dimensions: 530 x 290mm
Case finish: 24 carat Gold plated
The Autonautic EMP Weather Station consists of the B220D Barometer/Thermometer and also the R220D Clock
Check out the full range of Autonautic barometers and time pieces here: www.autonauticinstrumental.com. For product pricing and also stock availability please call +852 2827 5876 or contact us.