Albin General Purpose DC Impeller Pump FIP F4 12V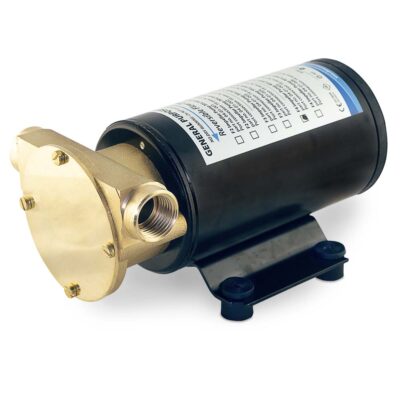 The Albin Pump Marine FIP DC Impeller Pump range are self-priming with reversible flow direction – ideal for dockside services such as bilge and deckwash pumps, refuling pumps for diesel and oils as well as for fresh water and ballast pumping.
DC 12V F4 size FIP pump with capacity 45L/min (12GMP). Used for pumping water, oils and chemicals.
Pump body in thermo polymer, stainless steel shaft and PN 06-01-009 Nitrile impeller.
Port connections 19mm (1/2″), self priming up to 3m vertical lift. Reversible flow direction, 12.5A fuse.
Interchangeable with Johnson 10-24689-01 and Jabsco 23610-3003 pumps.
Developed for safe performance in all weather conditions and bilge environments. Easy to install and also robustly engineered to maximize lifetime. For harsh saltwater and freshwater use, heavy duty motors with stainless steel shaft as well as durable high impact thermoplastic housing. Designed to be interchangeable, classified as safety products with 2 years limited warranty.
Features
Weight: 0.8kg/1 Lb
Rugged Flexible Impeller General Purpose Pumps in Thermo polymer or brass bodies, stainless steel shafts and Premium oil-resistant impeller
Self priming up to 3 meter – 9.8 ft.
Reversible flow by simply changing the polarity
Small bilge debris present no problems for APM FIP DC Pumps
Flexible impeller pumps must not be permitted to run dry for more than 30 seconds
Keep your FIP pumps running optimally by inspecting the Nitrile impeller before each season and, if necessary, replace with Albin Pump Marine replacement Impeller part number 06-01-009
Part No.
Capacity

Connections

Voltage
Fuse
Dimensions WxDxH
Replaces

04-01-005
45L / min (12GPM)
19 mm (¾") hose
12V
12.5A
160 x 120 x 90 mm
(6.3 x 4.7 x 3.5 inches)
Johnson Pump 10-24689-01
Jabsco 23610-3003
Please go to the official Albin Pump Marine site www.albinpumpmarine.com to see the full range of options and extras. We are here to help too, feel free to get in touch and we can help with pricing and also details, please call +852 2827 5876 or use our contact page.
Albin Pump Marine offers an extensive range of pumps and pump solutions for improved comfort and safety onboard. They develop their products in Sweden while manufacturing with partners around the world.
Albin Pump Marine's embrace of digital development, modern manufacturing technology and a global on-line presence, ensures greater flexibility and greater speed to market than ever before known in the industry.