Albin Manual Bilge Pump – Flush Mount, White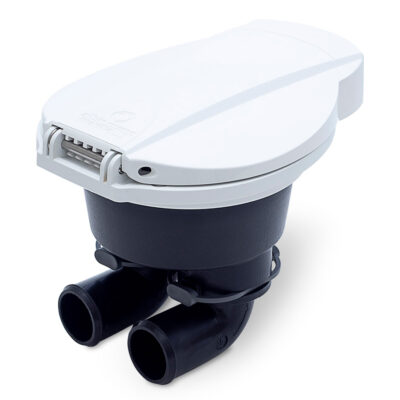 Rugged, flush mounted manual bilge pump with integrated handle and appealing design. Install where the pump can be readily accessed while operating the boat; such as in the cockpit, wheelhouse or on deck for power loss situations or installation on boats without electrical systems.
Designed with elbow inlet and outlet ports. Both 25mm (1″) and 38mm (1.1/2″) included.
Developed for safe performance in all weather conditions and bilge environments. Easy to install and also robustly engineered to maximize lifetime. For harsh saltwater and freshwater use, heavy duty motors with stainless steel shaft as well as durable high impact thermoplastic housing. Designed to be interchangeable, classified as safety products with 2 years limited warranty.
Features
Weight: 0,7 kg/1 Lb
Compact, manually operated Bilge Pump with integrated handle in the pump cover
Self-priming
3 m (9.8 ft) lift/head
Polypropylene body, metal fittings of stainles steel, nitrile rubber diaphragm and valves
Heavy duty non-choke valves
High-flow tricuspid valve on the outlet port
Positionable elbow connectors, 2 x 25 mm and 2 x 38 mm (1″ and 1½")
Complies with ISO 15083
Colour: White
Part No.
Capacity 3ft (1m) head 25mm (1″) connection
Capacity 3ft (1m) head 38mm (11/2″) connection
Ports
Dimensions WxDxH
01-01-001
34.5 L / min (9.1 GPM)
45 L / min (11.9 GPM)
25 mm (1″) and 38 mm (1½")
157 x 207 x 118 (25 mm) / 130 (38 mm)
6.2 x 8.2 x 4.6 (1″) / 5.1 (11/2″) in
Please go to the official Albin Pump Marine site www.albinpumpmarine.com to see the full range of options and extras. We are here to help too, feel free to get in touch and we can help with pricing and also details, please call +852 2827 5876 or use our contact page.
Albin Pump Marine offers an extensive range of pumps and pump solutions for improved comfort and safety onboard. They develop their products in Sweden while manufacturing with partners around the world.
Albin Pump Marine's embrace of digital development, modern manufacturing technology and a global on-line presence, ensures greater flexibility and greater speed to market than ever before known in the industry.