Swim Secure Tow Float – Inflatable Swimming Buoy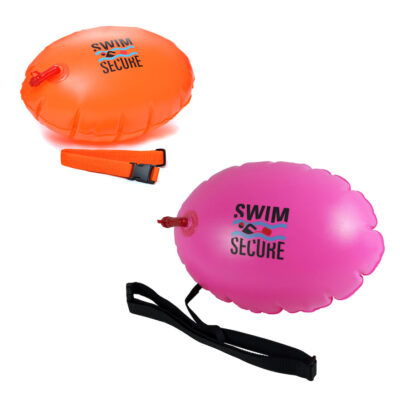 The inflatable Tow Float is perfect for keeping you safe and visible while swimming in open water. Available in bright orange and pink to increase visibility to other water users. Ideal for Hong Kong's busy waterways.
The Towfloat is pulled behind while swimming attached to a waist belt and short leash, and floats out of range of arms and kick zone.
The ultra-light Tow Float produces virtually zero drag and features two inflation chambers for added safety in the unlikely event that one chamber fails while in use. The efficient size and minimal drag makes the Tow Float perfect for endurance competitions where swimming buoys are compulsory.
The Tow Float is made of high quality durable PVC and includes a leash and waist strap which is adjustable.
Use the back of the valve cap to deflate.
Features
Keeps you visible in open water
Extremely lightweight – little or no drag
Ideal for training or events
One-way valve and two inflation chambers
Size Deflated – 41cm x 32cm
Belt length – 58cm to 108cm / 23" to 42"
Comes in pink and orange colours
Please note: this is not a buoyancy aid, it does not give any buoyancy whilst swimming. The Towfloat floats behind the swimmer on a short leash. If you need a PFD we also stock Buoyancy Aids as well as Lifejackets.

For full details of these and other Swim Secure products please go to the website here: www.swimsecure.co.uk. For product pricing and also stock availability please call +852 2827 5876 or contact us.