Swim Secure Tow Donut – Inflatable Swimming Buoy and Drybag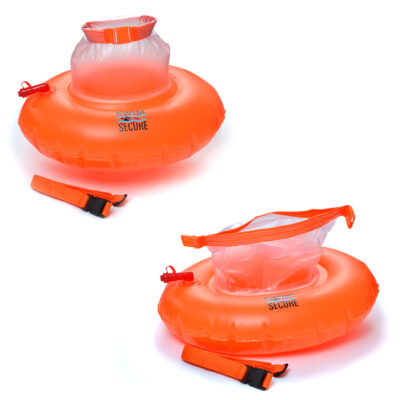 The Swim Secure Tow Donut is a highly visible tow float swim buoy with waist strap and an integrated dry bag pouch. The small dry bag sits in the centre of the donut, out of the water, and is perfect for small items such as car keys and phone.
The pouch can be opened on the water allowing you to access your drink, gels or phone so you can take that all important selfie!
Recommended for all open water swimmers who want a high visibility tow float with the added reassurance that their valuables are safe.
For added peace of mind we would recommend putting your phone into our waterproof phone bag before putting it in the Tow Donut.
Features
Keep your belongings safe while you swim
Small integrated dry bag ideal for valuables
Dry bag contents accessible whilst swimming
Lightweight – little to no drag
One way valves
Size deflated – 43cm x 35cm
Belt Length – 58cm to 108cm / 23" to 42"
Comes in visible orange colour
Please note: this is not a buoyancy aid, it does not give any buoyancy whilst swimming. The Towfloat floats behind the swimmer on a short leash. If you need a PFD we also stock Buoyancy Aids as well as Lifejackets.

For full details of these and other Swim Secure products please go to the website here: www.swimsecure.co.uk. For product pricing and also stock availability please call +852 2827 5876 or contact us.