Swim Secure Inflatable 20L Dry Bag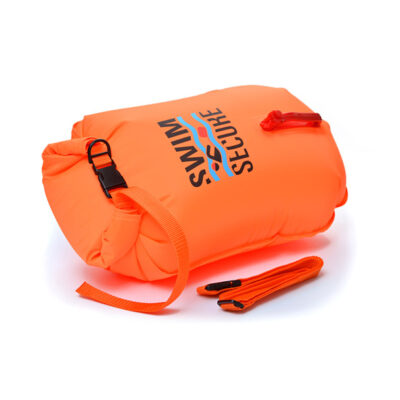 A brightly coloured high visibility inflatable dry bag with leash and waist belt. Ideal for storing kit whilst you swim and for increased visibility in open water. All our inflatable dry bags will easily support an adult's weight if you need to rest. Highly recommended for open water swimmers in all outdoor conditions.
A perfect accessory for Hong Kong's busy waters. Be Safer, Be seen!
Features
Double airbag system
Keeps kit safe and dry
Use without kit as a tow float
Ideal for self supported swims
Lightweight – little to no drag
One way valve
Belt Length – 58cm to 108cm / 23" to 42"
Hi visibility orange colour
Other sizes and colours available by order
How it works: The high flow nozzles inflate the external chamber, which is separate from where your kit is stored.
The dry bags have a twin handle design with two nozzles for inflating/deflating (use the back of the valve cap to deflate).
Top tip: put your kit in the bag before you inflate it!
For full details of these and other Swim Secure products please go to the website here: www.swimsecure.co.uk. For product pricing and also stock availability please call +852 2827 5876 or contact us.