OverBoard Small Waterproof Phone Case – Apple & Android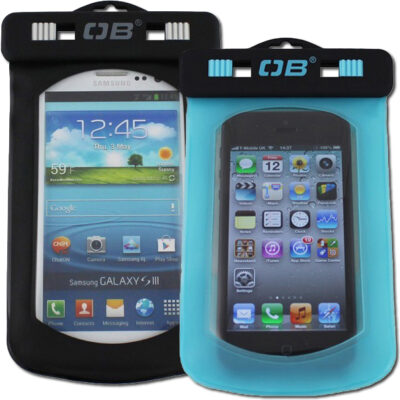 Thanks to a transparent front panel and LENZFLEX back for ultra clear photos and videos, you can browse, chat or snap away while the 100% waterproof Slide Seal System™ ensures your phone is fully protected inside the Small Waterproof Phone Case.
Water, sand, dirt or dust; the small OverBoard Waterproof Phone Case protects small phones from all of it while giving you full use of your phone.
All small smart phones are compatible, (including iPhones, Samsung Galaxy S4, Nokia Lumia, Blackberry phones and HTC desires). The small OverBoard Waterproof Phone Case is also guaranteed submersible to 19ft / 6m so you can drop it in the water without paying for it.
For larger Smart Phones, try the OverBoard Large Waterproof Phone Case.
Small Waterproof Phone Case Features
100% waterproof phone case (Class 5)
Will float "most" phone models safely*
Compatible with all standard iPhones, Samsung phones and others of similar sizes
Guaranteed submersible to 19ft / 6m
LENZFLEX back window for ultra clear photos
Transparent front window allowing full use of phone features
Make & take phone calls when phone is sealed in waterproof phone pouch
Keeps out dust, sand, dirt and water
Made of environmentally friendly, biodegradable thermoplastic polyurethane (TPU)
Perfect for iPhones, most small phones and handheld GPS
Available in Black or Aqua Blue colours
Included
Phone Case
Caribiner Clip
Neck Lanyard
Moisture Sensitive Desiccant Sachet
Instructions / Care Guide
Underwater photography warning: Capacitive touchscreens don't work underwater, so you may find it difficult to take photos underwater. To take video underwater, simply start filming above the waterline and then submerge the phone.
Check out the full range of waterproof bags and cases from Overboard here: www.over-board.co.uk
*Warning: Always test your phone for buoyancy before use and be aware that external environmental factors may affect floatation.