OverBoard Waterproof Large Phone Case
With Overboard's 100% waterproof Slide Seal System™ combined with a transparent front and LENZFLEX back means you can browse, chat or snap away while your smart phone or 'Phablet' device is safely sealed inside the OverBoard Waterproof Large Phone Case.
Big enough to accommodate even the largest of smart phones, including the larger iPhone as well as a range of Samsung's and similar sized brands. The OverBoard Waterproof Large Phone Case is also guaranteed submersible to 19ft/6m, meaning you can drop it in the water without losing your rag or your phone.
Can take phones up to 17cm x 9cm. Own a smaller phone? Click here Waterproof Small Phone Case.
Underwater Photography Tips
Capacitive touchscreens don't work underwater. To take photos or videos underwater, simply start filming above the waterline or use the side volume buttons on your device.
Waterproof Smart Phone Case Features
100% waterproof phone case – Class 5 – IP68
Will float if dropped in water
Guaranteed submersible to 19ft / 6m
LENZFLEX back window for ultra clear photos
Transparent front window allowing full use of phone features
Make & take phone calls when phone is sealed inside the pouch
Keeps out dust, sand, dirt and water
Made of environmentally-friendly biodegradable thermoplastic polyurethane (TPU)
Perfect for the largest of smart phones
What is Included
Black Waterproof Large Phone Case
Carabineer ClipNeck Lanyard
Moisture Sensitive Desiccant Sachet
Instructions / Care Guide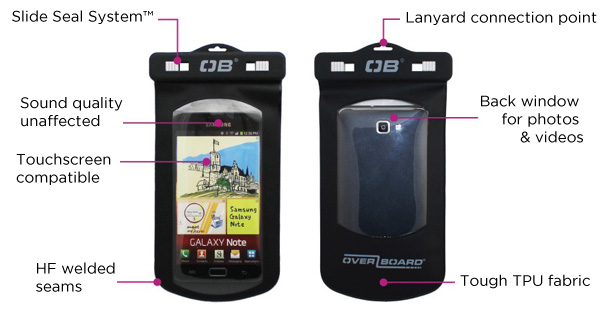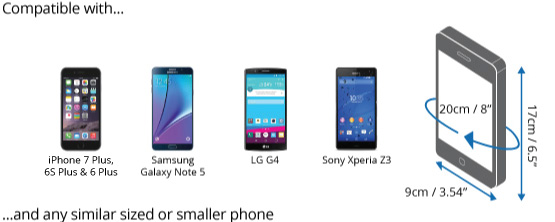 We also supply OverBoard's waterproof earphones.
Check out the full range of waterproof products from Optimum Time here: www.over-board.co.uk
*Warning: Always test your phone for buoyancy before use and be aware that external environmental factors may affect floatation.