Starco Flex Lite Puncture Free Trolley Wheel 400×8 With 1″ Bore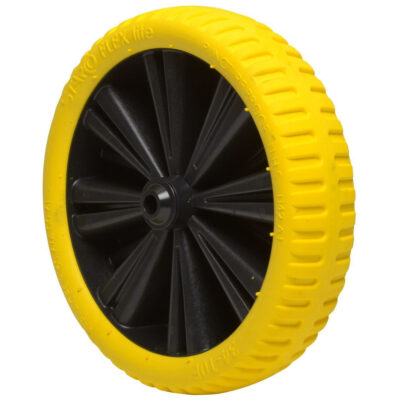 The Flex Lite Trolley Wheel is a 100% puncture-free launching trolley/dolly wheel. There is no inflatable inner tube or rubber tyre, just one unit consisting of plastic rim with foam outer. In addition the bore is 1″/25mm which fits almost any dinghy trolley axle. These wheels are intended to take the load of most dinghies from the Optimist, ILCA Dinghy / Laser up to the RS Quest, Hartley Wanderer etc. Ideally suited to concrete slipway and also hard surfaces. An inflatable wider, more gripped version is available for sandy beaches as well as the Standard Trolley Wheel.
These wheels come with black rim and yellow foam outer. On occasion they do come in different colours such as orange rim with black foam.
Specifications
Actual dimensions are 85mm wide and 370mm overall diameter – known as 400-8
1 inch bore for axle
Supplied as wheel and tyre in one unit in a PP/PU construction
Ideal for hard standings, slipway and hard surfaces
Colour: Black rim with yellow foam outer
No service or repairs required, no costly downtime
STARCO develops and manufactures light-weight and high-quality wheel and tyre solutions for almost any application for light transportation – from sack trucks and trolleys on professional construction sites to wheelbarrows for private gardening. We partner with market-leading manufacturers, whilst servicing the replacement market through our OEM customers' distribution network and key partners.
There are many options for launching trolley wheels, please go to the official site www.starco.com to see the full range of options. We are also here to help, feel free to get in touch and we can help with pricing and details, please call +852 2827 5876 or use our contact page.