Balloon Trolley Wheel 16×6.50-3 – For Beaches and Soft Ground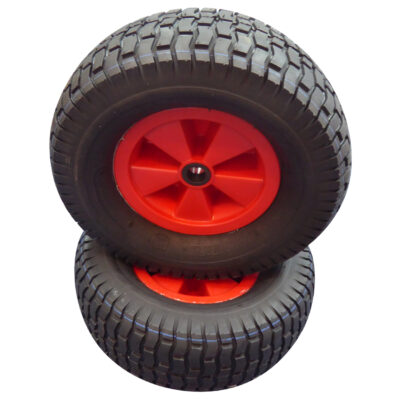 The Balloon Trolley Wheel is a tubeless launching trolley/dolly wheel with a wide grippy tyre. Made with 4 ply rubber the wheel can withstand more action and rougher terrain than 2 ply rubber tyres. In addition the bore is 1″/25mm which fits almost any dinghy trolley axle. These wheels are intended to take the load of most dinghies from the Optimist, ILCA Dinghy / Laser up to the RS Quest, Hartley Wander etc. Ideally suited to sandy, loose surfaces. A thinner inflatable version is available for concrete and slipway use as well as a puncture free hard foam wheel.
Specifications
8 inch plastic rim (2.50Ax8)
Overall size: 16″ x 6.5″ (400x165mm)
16/6.50-8 Tyre
1 inch bore for axle
4 Ply rubber for extra durability
Perfect for beaches and loose gravel
Not for road or highway use.
With a larger tyre it helps carrying heavier boats and also eases the ride over rough ground and being wider helps over soft sand. Although the tyre is only 2 inches wider it has a much square profile than a standard trolley wheel so offers much more support.
We are also here to help, feel free to get in touch and we can help with pricing and details, please call +852 2827 5876 or use our contact page.