Dynamic Dollies Large Wheel 18×8.5 – For Beaches and Soft Ground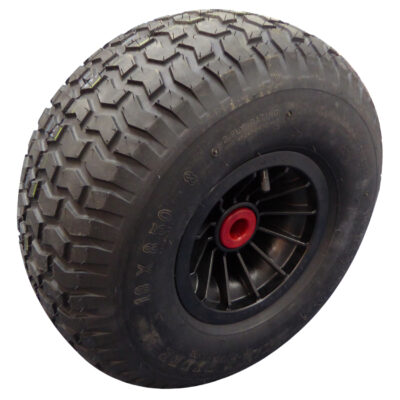 The Dynamic Dollies Large Wheel is a tubeless launching trolley/dolly wheel with a wide grippy tyre. Made with 2 ply rubber the wheel can withstand action and rough terrain. In addition the bore is 1″/25mm which fits almost any dinghy trolley axle. These wheels are intended to take the load of most dinghies like the ILCA Dinghy or Laser but more useful for the RS Quest, Hartley Wander and other larger boats. Morevover, these wheels are perfect for catamaran trollies. Ideally suited to sandy, loose surfaces. A thinner and smaller version is available for less heavy boats. Rugged plastic rim containing non friction Delrin ball bearings for effortless rolling on rough terrain.
Specifications
Rugged plastic rim with ball bearings
Overall size: 18″ x 8.5″ (400x215mm)
18/8.50-8 Tyre
1 inch bore for axle
2 Ply rubber for durability
Perfect for beaches and loose gravel
Not for road or highway use.
With a larger tyre it helps carrying heavier boats and also eases the ride over rough ground and being wider helps over soft sand. Although the tyre is only 2 inches wider it has a much square profile than a standard trolley wheel so offers much more support.
STARCO develops and manufactures light-weight and high-quality wheel and tyre solutions for almost any application for light transportation – from sack trucks and trolleys on professional construction sites to wheelbarrows for private gardening. We partner with market-leading manufacturers, whilst servicing the replacement market through our OEM customers' distribution network and key partners.
There are many options for launching trolley wheels, please go to the official site www.dynamicdollies.com to see the full range of options. We are also here to help, feel free to get in touch and we can help with pricing and details, please call +852 2827 5876 or use our contact page.