Dynamic Dollies ILCA/Laser Trolley – For Launching and Easy Moving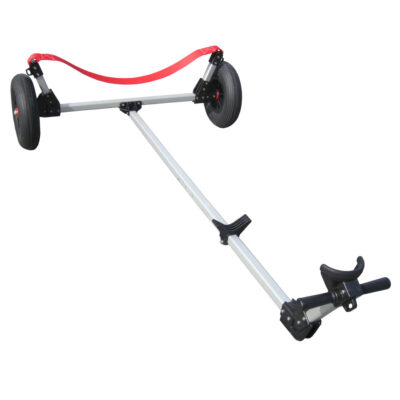 The Laser Trolley by Dynamic Dollies makes launching, storing and recovering your boat an easy one person job. The aft hull is evenly supported in the sling, while the bow end of the hull rests on a rubber 'V-Fitting'. Simply roll the dolly into the water and float your boat on or off. This is the Dynamic Dollies Type 2 dolly works not only with the Laser but the Byte too.
Specifications
Aluminum construction
Under 40lbs with wheels
Breaks down easily for travel
Gunwhale support + hull strap
These trolleys come with the Standard Wheel or the Flex Lite wheels but can be upgraded to wider, chunkier wheels for use on soft surfaces such as beaches.
Dolly style allows bow of boats with a curled gunwale to hang from a specifically shaped handle fitting. Snug-fitting edge trim atop the handle fitting protects the gunwale gelcoat.
Boat-specific tube and sling lengths provide a custom fit for each boat, enabling a balanced handle load and easy maneuvering.
All joint fittings are through-bolted and designed for increased torque stability.
Strong, 3" non-stretch, polyester sling provides wrap-around boat support.
Adjustable, flexible V-fitting on tongue tube provides boat support forward of the sling and prevent boat and aluminum contact.
Eyelets on sling and handle fittings facilitate securing boat to dolly in storage, on trailers or in racks.  Tie-down with the handle fitting eyelet helps prevent  slippage on steep ramps.
Easy dolly breakdown using the snap buttons on wheel shaft and tongue tube, as well as wing nuts on axle tube cross fitting.
There are many options for launching trollies, please go to the official site www.dynamicdollies.com to see the full range of options. We are also here to help, feel free to get in touch and we can help with pricing and details, please call +852 2827 5876 or use our contact page.