Speedy Stitcher Sewing Awl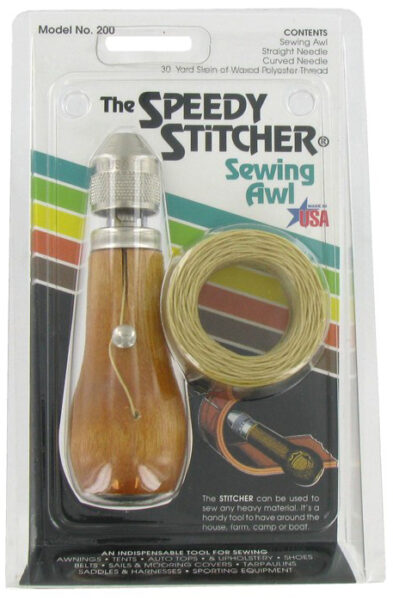 The Speedy Stitcher Sewing Awl, is a hand tool that can be used to sew any heavy material. It's a helpful tool to have around the boat, house, farm, workshop or any place where leather, canvas as well as vinyl has to be sewn or repaired.
Every Speedy Stitcher is made in the USA and comes with their signature high-tensile waxed thread and also custom-made diamond point needles. With a little practice, it sews a perfect lock stitch every time – just like a sewing machine.
Uses for the Speedy Stitcher include the assembly and repair of leather goods, canvas tarps, climbing and camping gear, saddlery also tack items, athletic equipment, even shoes and belts.
The Speedy Stitcher Sewing Awl is a tool used by professionals as well as do-it yourselfers. Examples being: leather crafters, sailors, boaters, horse lovers, outdoor enthusiasts, athletes and coaches, just to mention a few. This is an all-in-one sturdy hand tool with waxed polyester thread and diamond point needles that is designed to sew a tight lock stitch, just like a sewing machine, with ease. Customers around the world call it, "indispensable."
Kit Includes:
Includes the Sewing Awl
Bobbin with 14-yards of coarse thread
Use instructions
A 30-yard skein of waxed polyester thread and also,
Two needles – 1 straight and 1 curved
For more information on the Speedy Stitcher product range please visit their website here: www.speedystitcher.com
For product pricing and stock availability please call +852 2827 5876 or contact us.