Sky GRP Adjustable 3pc SUP Paddle – 163 to 210cm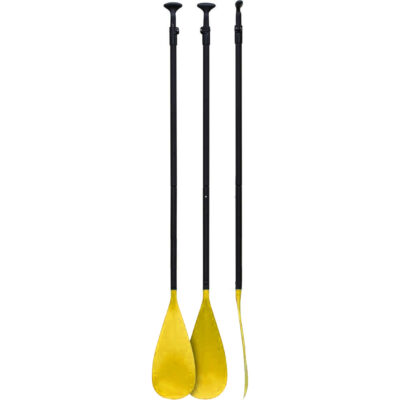 This fiberglass adjustable length 3pc SUP paddle is highly durable and designed for beginners, families and high use environments. Built to last, the adjustable paddle features a durable injection molded blade, fiberglass shaft. The paddle can be adjusted form 163cm/64″ to 210cm/82.5″ so it should suit most paddler sizes. When broken down into its three peices, this paddle is a lot easier to carry.
Designed to meet the needs of recreational and family paddlers everywhere.
This paddle is well priced due to the fact that it is our own design and Sky bring it directly from the factory!
Features
Size: 163-210cm / 64″-82.5″
Designed for beginner paddlers
Colours: Black shaft with semi translucent yellow blade
Blade: Fiberglass filled
Shaft:

Glass Fibre

/ Ø 30 mm
Able to be adjusted for easy transportation
For stock availability as well as current pricing please Contact Us. We often sell out of these paddles so do please call ahead of coming to see us.
A single piece and two piece paddle is also available for more adjustability.
Technology
Polypropylene glass reinforced blades – These kayak blades are injection moulded from glass fibre reinforced polypropylene; these blades are lightweight but durable. Glass fibre also adds stiffness and strength to the polypropylene.
Glass fibre shaft – Llayers of spun glass fibre make this shaft lightweight, strong and flexible for all-day paddling comfort on the water.