Palm Drift Pro 2-Piece Kayak Paddle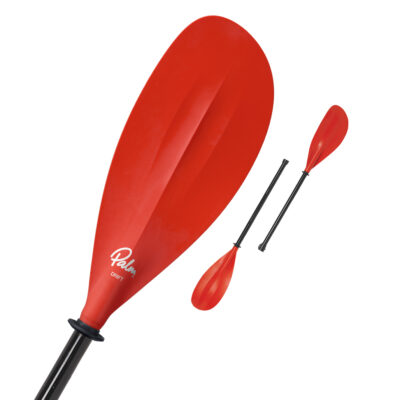 The Palm Drift Pro has a light glass fibre shaft with adjustable angle and length on-the-go. Durable and great value with an asymmetric blade – ideal for touring, sit-on-tops or inflatable kayaks.
Features
Size: Adj length (215-220 cm)' Adj length (220-225 cm)
Colours: Red' Yellow
Weight: 1179 (115-120)
Blade Size: 660 cm²
Feather: 0–80° adjustable
Blade: Polypropylene glass filled
Shaft: Glass fibre / Ø 30 mm
Other Features: Take apart paddle with adjustable feather and length coupling / Blade shape with gentle dihedral / Moulded-in hand grip / Drip rings
To find the right paddle length, please go to the Palm Equipment website: www.palmequipmenteurope.com
For stock availability as well as current pricing please Contact Us.
Technology
Polypropylene glass reinforced blades – Palm Equipment's allround paddle blades are injection moulded from glass fibre reinforced polypropylene; these blades are lightweight but durable. Glass fibre adds stiffness and strength to the polypropylene.
Glass fibre shaft – Twelve layers of spun 100% glass fibre make this shaft lightweight, strong and flexible for all-day paddling comfort on the water.
About Palm Equipment
The year was 1979. The location: the Somerset coast. Inside a small shed with a leaky tin roof stood a figure, working hard and covered in a fine layer of glass fibre dust. This was Andy Knight, a man who wanted some better gear to take paddling, and had decided to make it himself. The sign on the door read 'Palm Glass Fibre Mouldings Ltd'
Just down the road from the shed, Andy can still be found working away on something new. The shed is now a little bigger, and many more figures toil away, but Andy and the team at Palm still work with the same determination and the same goal: making gear for paddlers.
Palm Equipment International Ltd is based in Somerset, England. From here they supply the Palm apparel brand, kayaks from Dagger, Islander and Wilderness Systems, canoes from Mad River Canoe, and Infinity inflatables – everything you need to take to the water.