PolyMarine SureSeal 75ml Tube Sealant & Adhesive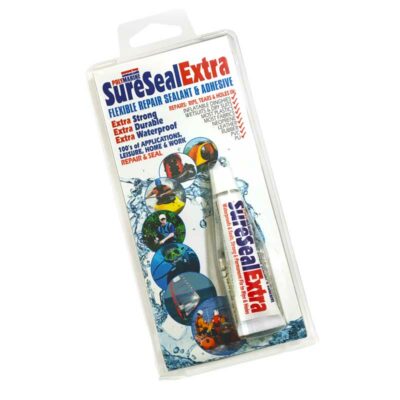 SureSeal is a flexible repair sealant and adhesive for a permanent waterproof repair to coated fabrics. These include PVC, Hypalon, PU, Neoprene, Rubber, Leather and in addition most plastics and fabrics.
Multiple uses include repairs to inflatable boat and RIB tubes, wet suits, dry suits, and also boat fenders. Tents, awnings, sails, diving and skiing equipment, foul weather gear, flotation vests, footwear, vinyl upholstery and thousands more items too. PolyMarine SureSeal creates a skin to repair actual holes without the need for a fabric patch.
PolyMarine SureSeal is proving to be very popular for the repair of Fishing Waders, Wellington Boots and a whole rage of other uses such as: Fix split seams, leaks and rips in all diving suits. Also ideal for repairing rips, splits, leaks and tears in leather boots, shoes, wellies, training shoes and waterproof clothing, tents, marquees, ground sheets, awnings, paddling pools, pool liners, inflatable boats, inflatable canoes and toys, horse rugs, trainers, car soft top repair, children's toys etc…
IMPORTANT: Due to this product being classed as Dangerous Goods we do not ship outside of Hong Kong
For full details of this and also other products please go to the manufacturer's website here: www.polymarine.com. For product pricing and stock availability please call +852 2827 5876 or contact us.