OverBoard Waterproof Zoom Lens Camera Case – SALE 50% Off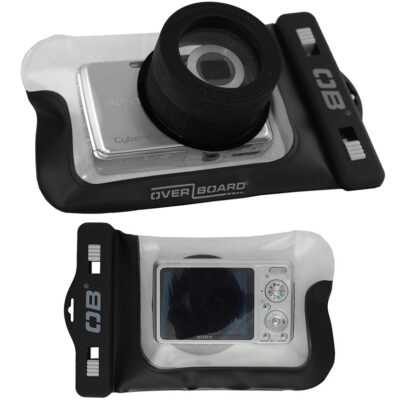 Perfect for water-based snaps or sandy beaches, this OverBoard Waterproof Zoom Lens Camera Case features a clever zoom-lens housing, so you can get really creative with your high-spec camera without worrying about damaging it.
The optical front lens and Lenflex rear window allow you to take ultra clear photos while your camera is safely sealed inside the waterproof camera case thanks to our 100% waterproof Slide Seal System™.The handy wrap around window design also allows easy access and full use of all your cameras buttons and functions.
Now you can take top-notch snaps on boats & beaches and in the sea & pools as well…
No telescopic zoom lens on your compact camera? Then take a look at our Waterproof Camera Case.
Waterproof Zoom Lens Camera Case Features
100% waterproof camera case (Class 5)
Will float "most" camera models safely*
LENZFLEX front & back window for ultra clear photos
Guaranteed submersible to 19ft / 6m
Keeps out dust, sand, dirt and water
Made of environmentally friendly biodegradable thermoplastic polyurethane (TPU)
Fits compact cameras with a telescopic zoom lens of 2.8cm or less
What is Included
Waterproof Zoom Lens Camera Case
Neck lanyard
Moisture-sensitive desiccant sachet for hot & humid conditions
Carabiner clip
Instructions / Care Guide
Check out the full range of waterproof products from Optimum Time here: www.over-board.co.uk. For product pricing and also stock availability please call +852 2827 5876 or contact us.
*Warning: Always test your camera for buoyancy before use and be aware that external environmental factors may affect floatation.