Islander Bolero – Touring Kayak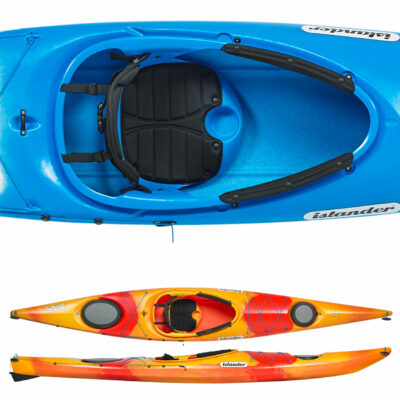 The Islander Bolero is a classic tour kayak that's fast enough to cover distance, yet stable and easy to paddle. The rounded hull inspires confidence, and its drop-down skeg will help keep you paddling straight in choppy water. The accessible, comfortable cockpit includes multiple storage options, making the Bolero our go-to tour kayak for inland or coastal adventures.
The Islander Bolero is available in either 14.0 or 15.0 lengths.
Islander Bolero Features
Integral moulded seat
Knee/thigh pads
Drop-down skeg
10" domed bow hatch
Large oval domed rear hatch
Mini-cell foam sealed bulkheads
Universal seat pad
Adjustable Universal backrest
SlideLock footbrace
Deck elastics
Soft touch grab handles
Anodised security bar
Moulded drain plug
Colours: Apricot, Cloud, Lime, Sunset
Islander Bolero 14.00
Length: 426 cm
Width: 62 cm
Weight: 23 kg
Max Capacity: 130 kg
Cockpit Size: 95 x 49cm
Spraydeck Needed: Big Deck N5 (tight) or Super Big N6 (loose)
Islander Bolero 15.00
Length: 455 cm
Width: 63 cm
Weight: 26 kg
Max Capacity: 145 kg
Cockpit Size: 95 x 49cm
Spraydeck Needed: Big Deck N5 (tight) or Super Big N6 (loose)
Due to space constraints we do not stock these kayaks in Hong Kong but work with customers to get the best options available, this includes newest models, colours and accessories as well as the best kayak for the required usage. Our suppliers ship from the UK, Canada and USA.
Please go to the official site www.islanderkayaks.com to see the full range of options and colours. We are here to help too, feel free to get in touch and we can help with pricing and details, please call +852 2827 5876 or use our contact page.