Islander Calypso Kayak – Sit on top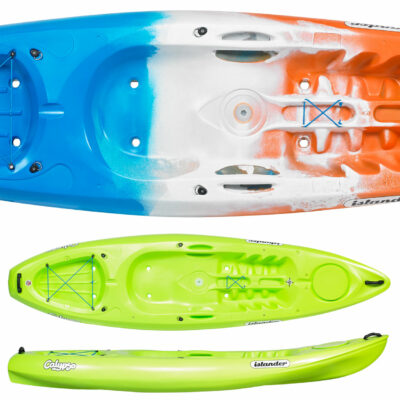 The Islander Calypso Kayak, an all-round sit-on-top. Beach coast or lake – this boat loves it all. A full keeled hull provides stability and, with fully moulded features, it's easy for anyone to pick up a paddle and go.

Islander Calypso Kayak Features
Simple integral moulded seat
Ergonomic mould-in footbrace
Stern tankwell with securing elastics
Self-bailing scupper holes
D-ring accessory attachment points
Drain bung
Strong carry handles
Colours: Apricot, Citrus, Emerald, Opal
Length: 295 cm
Width: 75 cm
Weight: 20 kg
Max Capacity: 145 kg
Due to space constraints we do not stock these kayaks in Hong Kong but work with customers to get the best options available, this includes newest models, colours and accessories as well as the best kayak for the required usage. Our suppliers ship from the UK, Canada and USA.
Please go to the official site www.islanderkayaks.com to see the full range of options and colours. We are here to help too, feel free to get in touch and we can help with pricing and details, please call +852 2827 5876 or use our contact page.