Gelcoat Filler – Teroson UP60 241g (Was Plastic Padding)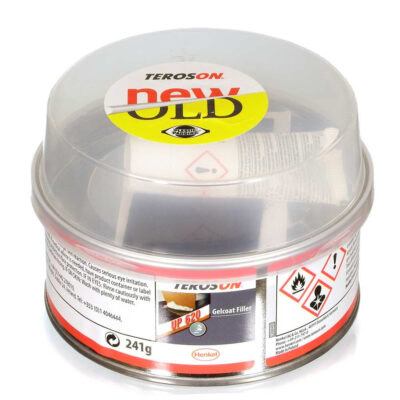 White gelcoat filler for surface repairs, easy to mix, apply and sand. Can be pigmented or painted with any marine paint, use with Glass Fibre Mat for structural repairs to GRP. This is perfect for filling in any dinks or chips in your boats hull to return it to a smooth clean finish. Fill in all those small holes in your deck or areas where rope friction has worn grooves.
Applications: restores original surface finish to boat hulls, motorcycle fairings and other GRP panels.
This gelcoat Filler is the replacement for the Plastic Padding Gelcoat Filler by Henkel (who also make this Teroson version).
Features
White gelcoat filler for surface repairs
Easy to mix, apply and sand
Pigment or paint over with any marine paint
Use with glass Fibre Mat for Structural repairs to GRP
Tub Size: 241g
Ideal for Boats, Caravans, Motorhomes, Cars and Baths etc.
Instructions
Sand the surface to be repaired thoughly so any rust and paint are removed. Use sandpaper with 40-80 grade.
Dosage Mix the mass of a golf ball size (40ml) with hardener 4-5 cm (about 2%) (Wear protective gloves).
Using a scraper, scrape the surface so that the paste penetrates into the gaps. Then fill immediately to the desired thickness. For thicker repairs use multiple layers.
Clean tools with ethyl acetate or cellulose thinners.
Best working temperature over 18c preferably not below 15c. Curing time about 10 minutes at 20c. Shelf life about 2 years when stored below +20c
For product pricing and also stock availability please call +852 2827 5876 or contact us.