Freeloader Classic Portable Solar Charger – SALE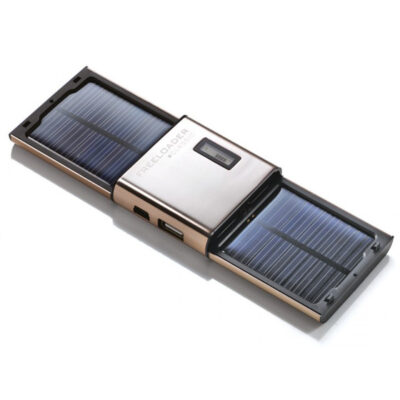 The Freeloader Classic is an evolution of the world famous Freeloader original portable solar charger. It packs even more power without increasing size or weight. Most of all, it enables most hand held devices to be powered including iPads, iPhones as well as the Samsung Galaxy range.
The Freeloader Classic takes power from its removable solar panels in addition to the supplied charge cable that plugs in to any USB.
Supplied in a tough but stylish aluminium body, the Freeloader Classic can take the knocks of every day life whether on a business trip, backpacking as well as relaxing on a beach.
Discontinued. This product has been upgraded to another style and so is on sale, stocks limited!
Freeloader Classic Features
Holds its battery charge for up to 3 months
Charges devices while charging internal battery with the solar cells or USB charge cable
Impact resistant, rust-free aluminium body
Includes LCD battery charge indicator
Freeloader's solar panels can charge the internal battery in as little as 8 hours. Or 3 hours when using the supplied USB charging cable
150mA premium quality crystalline solar cells
1200mAh environmentally friendly Li-ion battery – typical battery life is 2 years
Supplied with a master cable, 9 adapters and detailed user manual
Discontinued. For full details of other products please go to the SOLAR Technology website here: www.solartechnology.co.uk