Dynastay DM20 Rope From English Braids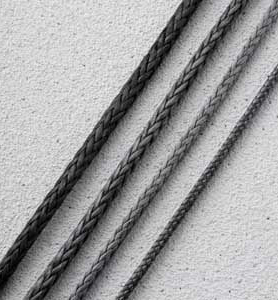 English Braids Dynastay has been designed using the latest Dyneema® fibre DM20. Forming part of the standing rigging collection the focus has been on the on-going weight reduction through the use of Synthetic materials. The DM20 fibres ensures that creep is kept to a minimum while the manufacturing after treatment ensures that the constructional stretch is removed from the ropes before use. The product is spliced into place by a professional rigger and steel wire can be swapped diameter for diameter while delivering far higher maximum break loads therefore increased safety margins. The product has found niches in both commercial and yachting world and has changed the rules when considering traditional deep water moorings. The cross industry fertilization allowing for quicker acceptance to the market.
Low Creep Rate
The development of the DM20 fibre has been focused on minimal creep above all other characteristics. In order to achieve this the tenacity is slightly lower than SK78 although this is rarely noticed by users due to the manufacturing process for ropes using these fibres.
DM20 will creep at a rate of 0.02% per year for a period of in excess to 25 years. The creep rate / life for SK78 is specified at 0.5% per year for a maximum of 7 years.
In applications where creep and extension are paramount DM20, and the English Braids XPS process, should be the first choice. This specialist fibre provides sailors, engineers and designers with the ability to use synthetic material where only steel, polyester or aramids have been previously possible. Ropes made with Dyneema® DM20 provide a real alternative for longer term applications where stability is critical.
This rope is ideal for forestays, backstays, halyards and also situations where high load and zero stretch is needed. Also a good option for the film and stage industries, particularly in stunt setups.
Features
12-strand construction
Very high strength to weight ratio
Treated with specialised marine coating
Very long lasting in a marine environment
Stronger than steel
Safer that steel in operation
Very low stretch and minimal creep
Breaking Loads
Line Diameter / Minimum Strength (when spliced):
3mm / 1,260kg
5mm / 2,670kg
7mm / 6,270kg
9mm / 9,020kg
11mm / 12,600kg
13mm / 17,700kg
15mm / 22,100kg
Technical Information
| | Core |
| --- | --- |
| Construction | 12 strand |
| Material | Dyneema |
| Specific gravity | 0.98 |
| Resistance to acid | Very Good |
| Resistance to alkali | Very Good |
| Resistance to UV | Very Good |
| Resistance to heat | Poor |
For product pricing and stock availability please call +852 2827 5876 or contact us.