Crewsaver Three Finger Glove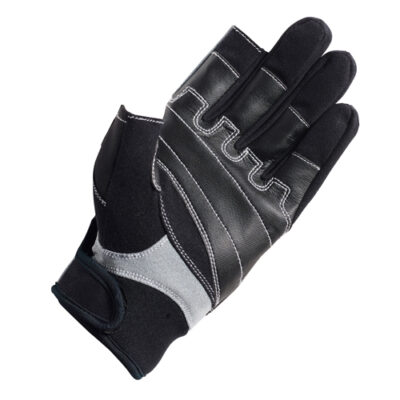 Designed for dinghy sailors of all levels, these Crewsaver Three Finger Gloves provide you with the grip and comfort you need when on the water in tough conditions or for long periods of time. Three fingered for complete warmth and protection, the thumb and forefinger remain short for dexterity with ropes as well as shackles. Amara reinforcing across the knuckles, palm and also digits provides superior abrasion resistance no matter how challenging the environment.
These Crewsaver Three Finger Gloves replace the popular Phase2 design. Alternatively opt for Short Finger design if you require more grip and protection from rope abrasion as well as the Tri-Season Full Finger Gloves for ultimate grip and protection.
Three Finger Glove Features
    Amara knuckle panel
    Neoprene wrist for comfort
    Printed Amara on fingers and palm for grip and long life
    Super flexible spandex for increased movement
    Knuckle panel for protection and durability
    Printed Amara reinforced forefinger
    Three full fingers, thumb and forefinger cut off
Size Guide

Please refer to the Crewsaver website for more information about this and other products: www.crewsaver.co.uk