Crewsaver Long Sailing Boot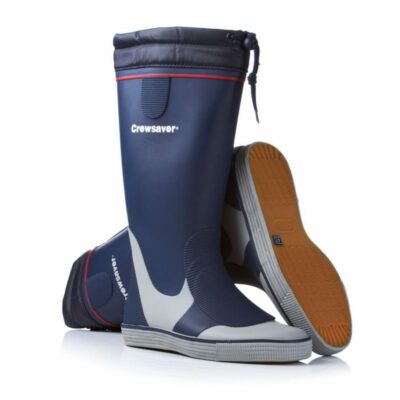 Constructed from high quality natural rubber, thes Long Sailing Boot is ideal for cruising. They are broad cut and have an inner lining, padded rim and gusseted front for comfort while a drawcord ensures a secure fit. Specifically designed grip soles protect against slipping and the combination of kick off heels, toe and instep reinforcements ensure durability.
Whatever your watersports activities, whether racing or recreational, Crewsaver's range of sailing footwear will meet your requirements.
Designed for excellent performance in all sailing conditions, Crewsaver's footwear gives you the protection, grip and also confidence you need.
Crewsaver Long Sailing Boots Features
Drawstring and gusset topped long sailing boot
Excellent for launching and recovery
Tailored marine environment sole for wet slipways, decks or paths
Broad foot design for easy donning and removal
Natural rubber construction for durability
Dry Line inner for warmth and comfort
Size Guide

Please refer to the Crewsaver website for more information about this and other products: www.crewsaver.co.uk. For product pricing and also stock availability please call +852 2827 5876 or contact us.